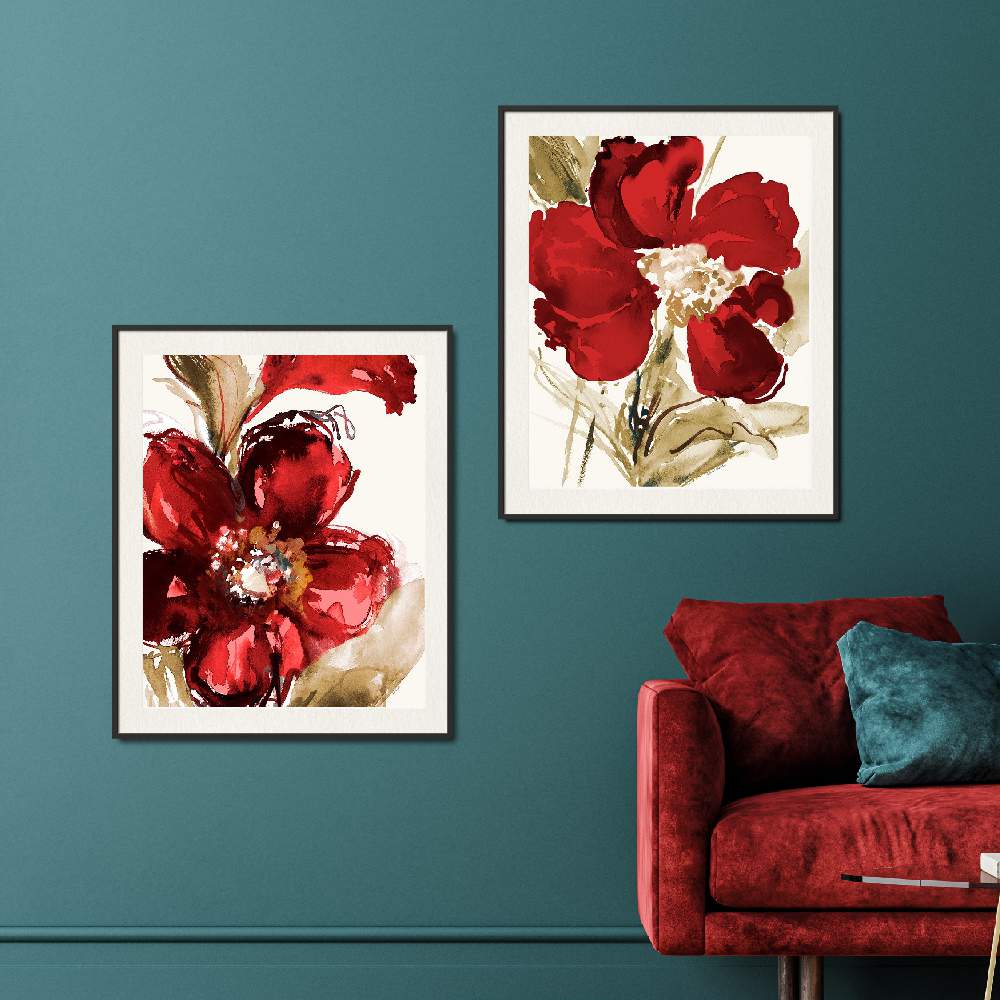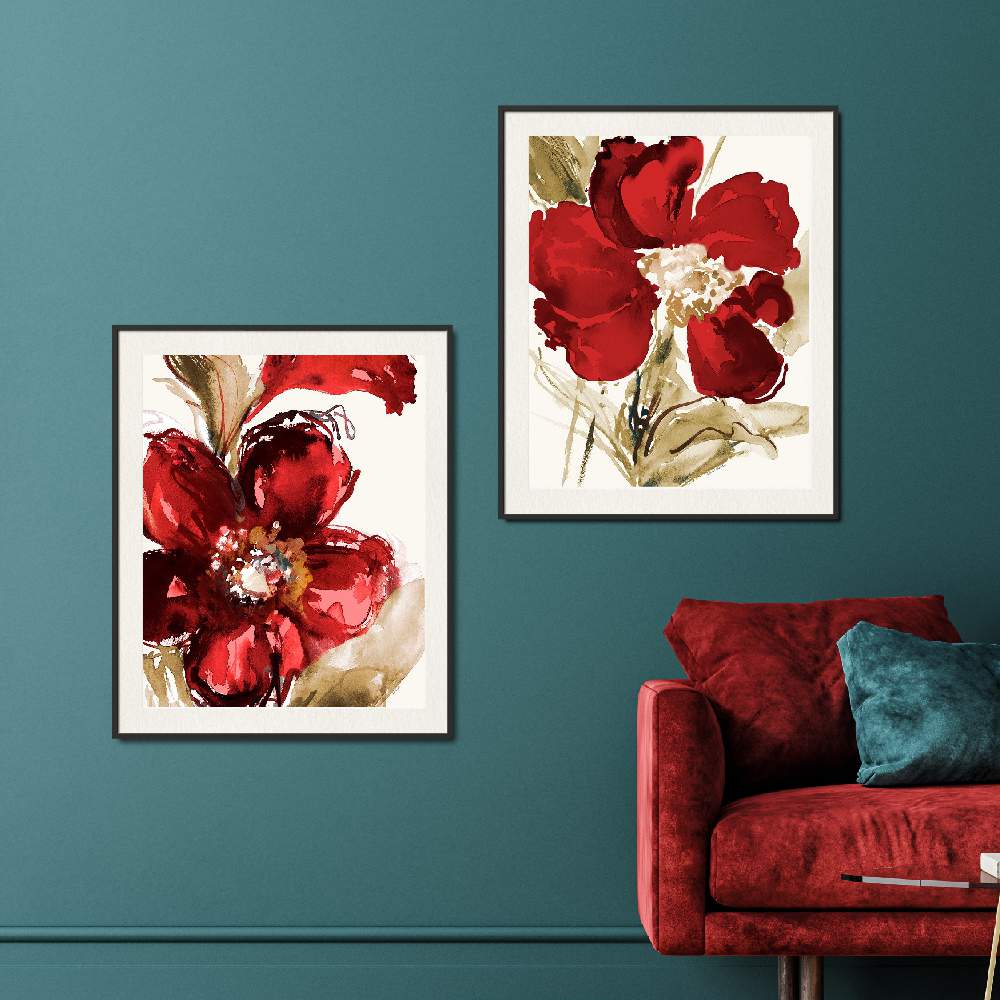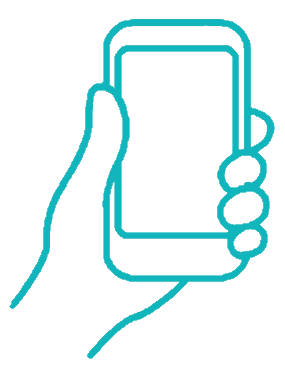 ---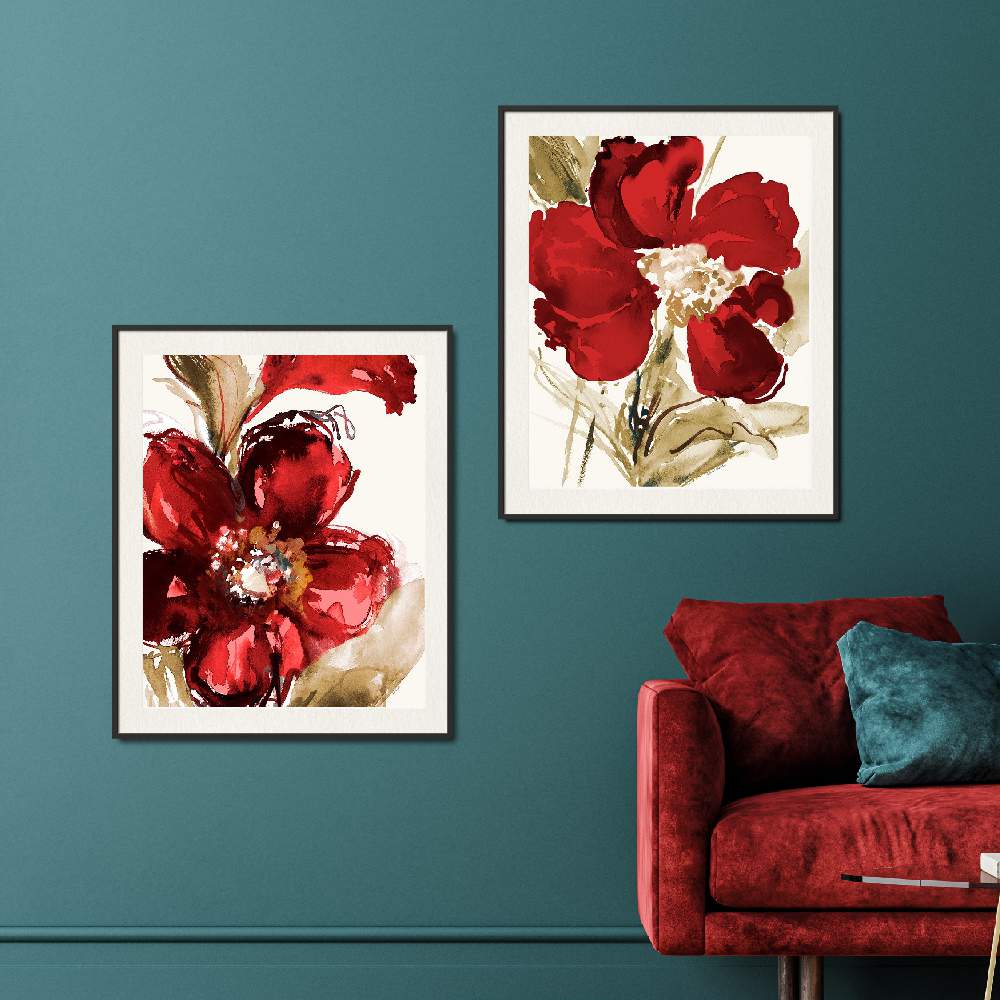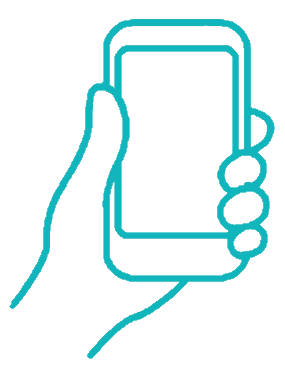 Bright Red Bloom
Set of 2
Buy this for only
. Add it to the cart and apply coupon
in the shopping cart.
---
What is 'Stretched Canvas'?
CHOOSE EACH ARTWORK SIZE:
Price is for the set of 2
EACH ARTWORK IN THIS SET:
Art Print On:
Print Size:
Frame:
Mount:

, inch

Art print covered on top with acrylic
Stretched Canvas:
Finished Size:
The print is carefully rolled and dispatched in a tube
Bright Red Bloom II
(Choose your own, size, frame, & more)
Bright Red Bloom I
(Choose your own, size, frame, & more)
Art Print
The best quality giclee' prints produced at a very high resolution with full saturation and are fade resistant. We use large format inkjet printers and archival inks to ensure consistent quality. Each artwork has an associated copyright and is licensed from the artist.
Print Surface
Paper: Coated premium matte paper 230 GSM. Bright white, smooth finish matte, top-coated with an ink-receptive layer.
Canvas: Artistic matte cotton canvas 410 GSM. Matte finished, crack-resistant, water-resistant, top-coated with an ink-receptive layer.
Frame
Made of high density polystyrene. Moisture resistant, premium finish, durable and light weight.
Stretched Canvas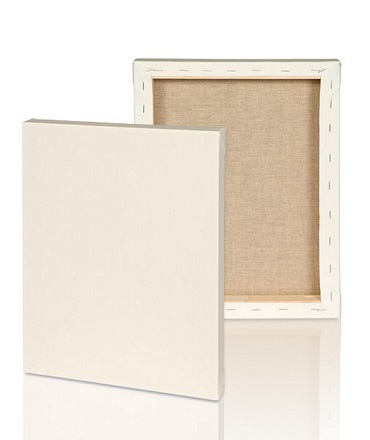 The canvas is stretched over wooden frame at the back. The wooden frame is not visible from the front and sides. It comes with hooks and is ready for hanging on the wall.
Acrylic
Acrylic is a cover on top of paper art prints. Premium quality, clear and shatterproof.
Mount Board(Mat)
Add a decorative element within the frame. Acid free, resists aging, matte finish.
Back Board
Medium density fibreboard used to support art print at the back.
Note: Acrylic cover, mount board and back board used only for framed paper art prints and not canvas art prints.
Hanging Hardware
All pieces are ready to hang and come with the hooks.
Packaging
All our products are manufactured, assembled and packaged in Bangalore, India. The artworks are secured with a three layer packing -shrink wrapped, followed by thermocol and corrugated sheet. The package is brand labelled.
SHIPPING, RETURNS, & GUARANTEE
Free shipping across India
Ships in up to 3 days via reputed courier companies. Courier takes about 4-7 days to deliver in major cities in India.
Eligible for Returns
See more...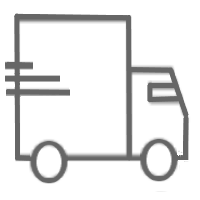 Shipping & Delivery
Free shipping across India.
We ship orders in up to 3 days via reputed courier companies.
Due to high volume, the orders placed during a sale period may take us up to 8 days to ship.
Courier takes about 4-7 days to deliver in major cities in India. In some places, it may take up to 10-12 days.
Owing to the pandamic situation in the country, delivery may be delayed.
International shipping cost is charged extra, at actual.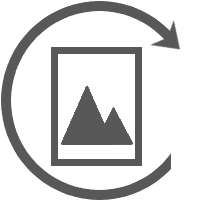 Eligible for Returns
Don't like it? return it to us and get 100% refund.
Inform us within 5 days of delivery and ship it back to us.
Cash on Delivery (COD) orders are not eligible for returns.
For complete return process and details please see section 5 of our terms of use.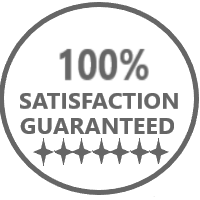 100% Satisfaction Guarantee
In case artworks delivered are not as per your order, damaged or wrong artworks are delivered, we replace it at our cost.
All our artworks are licensed from artists.
We authentically reproduce from original artwork images at very high quality. If you are not happy with the quality, we accept returns.
The price shown on this page is the list price (inclusive of taxes), before any coupon/eGift discounts.
If you have a coupon code or an eGift code, after you add artworks your shopping cart page, apply the code in the shopping cart page(in "Apply Discount Coupon/eGift code" box).
The price you see in your shopping cart is the final price you pay.
Pay online using credit/debit cards, netbanking, UPI, Wallets. Cash on Delivery (COD) is also available.

(239 reviews)
VERIFIED CUSTOMER REVIEWS

Beautiful painting
The painting looks more vibrant than on the website, which was a pleasant surprise. It was packaged very neatly and safely. However, I did not get updates on the delivery status at any point, excep...
Abiya Johnson, Kochi, India
25 Jan 2023

Excellent Quality Art
I was little hesitant, and hence ordered just one art from Arte'Venue. I am so happy with quality, delivery time and the service. Just excellent. Now I can order more with full confidence.
Amit Palkar, Mumbai, India
02 Jan 2023

Loved our first purchase!
Your collection is amazing. The way we can filter by category and colour really sped up our selection. We also made use of the AR feature to picture the art on our wall. The breakdown of the paint...
shreya12, Gurgaon, India
10 Oct 2022

Elegant Looks
Touch of class, paint on canvas goes well ... It is looking decent on the wall and giving a rich & elegant look. Thank you! :-)
Bhalvir , Pune, India
30 Jul 2021
---
How to Hang Paintings?
Here're Tips on the Art of Hanging
Keep 3 inch distance
For great asthetics, keep about 3 inch distance between adjacent edges of the artworks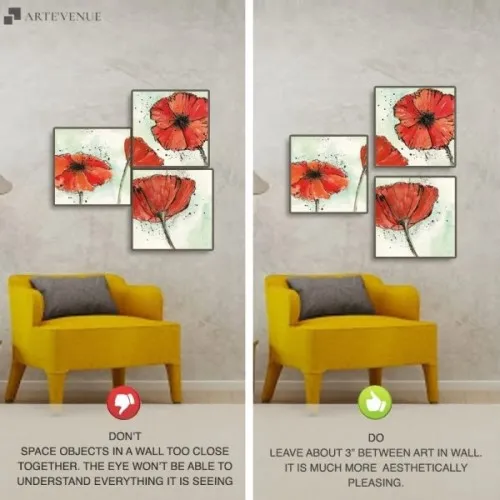 Align the artwork centers
Align the centers of the artworks and not the edges and the wall art will look better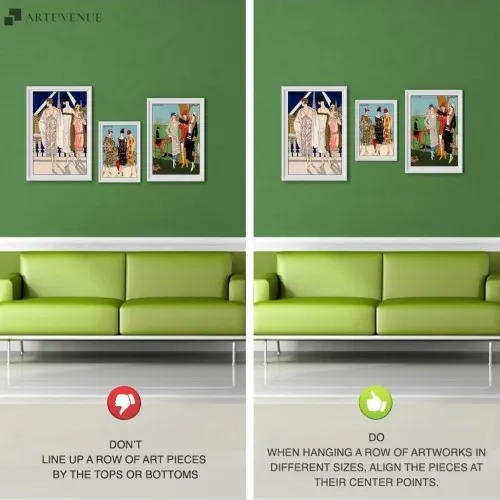 Hang Art at Eye Level
For large single painting piece, hang it such that it's center is at about 5 feet (60 inches) from the floor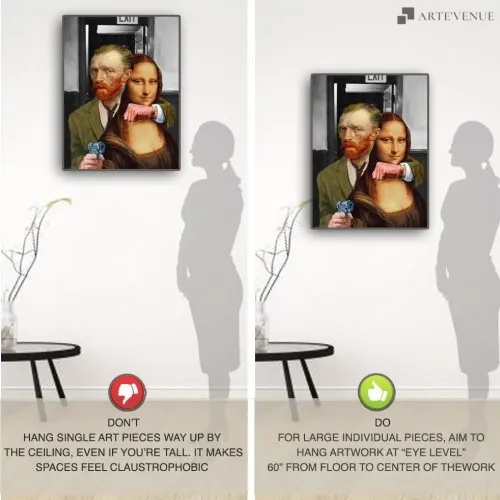 6 to 8 inch Above Funiture
When hanging above furniture, hang it such that the lower edge of the artworks is 6 to 8 inches from the top edge of the furniture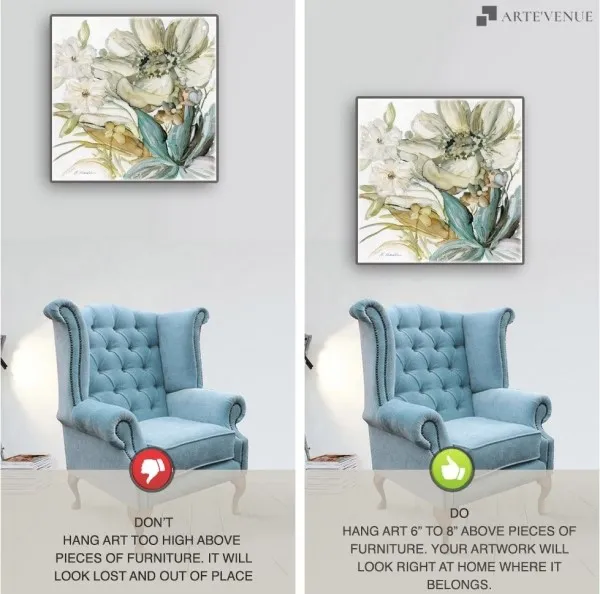 How to Choose the Size for Paintings For Home?
Go too big or too small and the painting may not look very aesthetic. Typically the painting width should cover about 2/3rd of the sofa or bed width.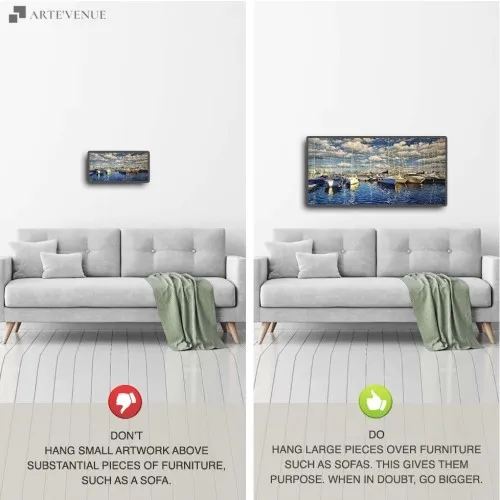 How to Customize Art Prints at ArteVenue.com?
This guide show you how to customize the artwork exactly as you need. In addition to being able to choose the print surface as canvas or paper, choose the frame, mount size and color, ArteVenue.com is the only website for Art that lets you choose the size each inch-by-inch. With every customization you perform, instantaneuously you can see the artwork with the changes.
Another First in India: See the artwork on your own wall/space. After you select from standard sizes or customize it yourself, you can view it on your own wall
See It On Your Own Home Wall
Using your mobile phone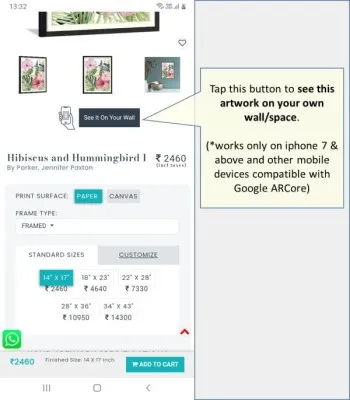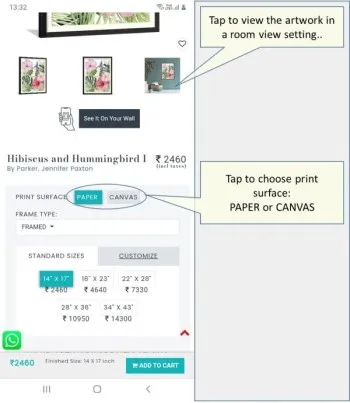 Framing options for Paper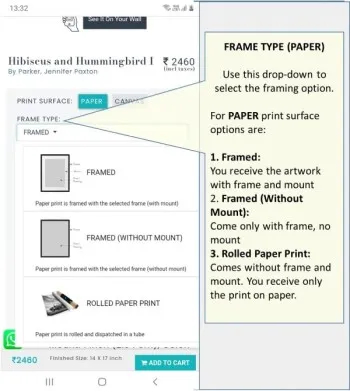 Framing options for Canvas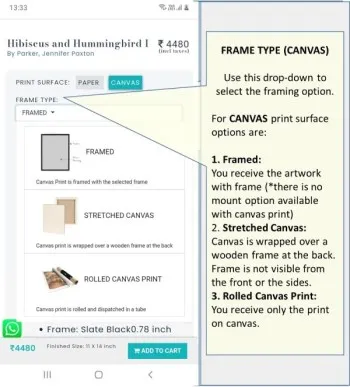 Choose from Standard Sizes or Customize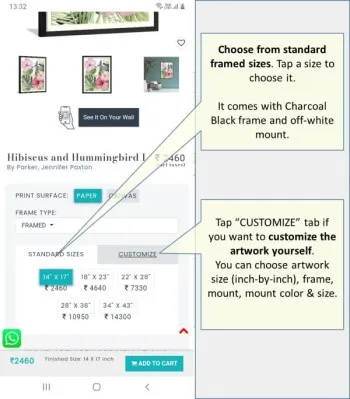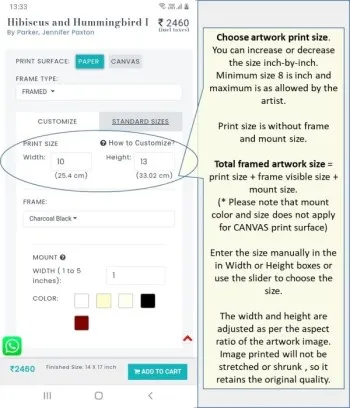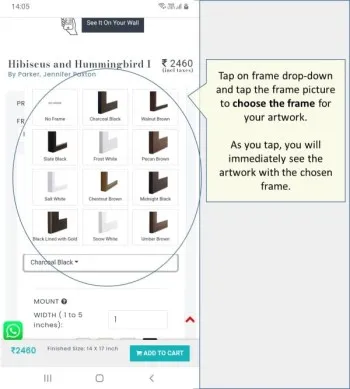 Choose Mount, Colour and Width
Applies only to print on paper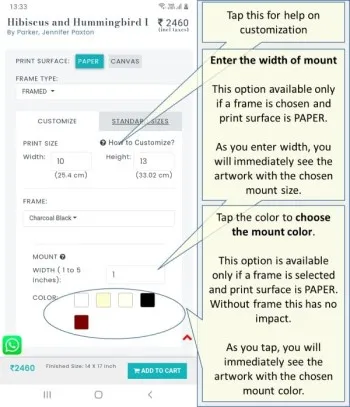 Arte'Venue has the largest collection of painting wall art in India which are fully customizable. We make it easy to find the perfect paintings for home, office or any space.
Our website has the augmented reality feature to virutally see chosen painting in your own space. So now buy paintings online with confidence.
We have you covered for everyting while searching for paintings. Look no further than artevenue.com.
Buy premium quality & affordable paintings wall art for home and office interiors at Arte'Venue. Buying paintings online is made easier with our largest and awesome collection of licensed art prints in India. All our art prints are licesed and fully customizable.
©2019 Montage Art Pvt Ltd. All rights reserved.