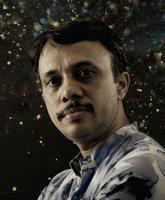 Venugopal VG
V.G.VENUGOPAL (born in 1976, Valakkunja, Kasaragod Dist. INDIA) is a Bangalore based visual artist. He had his BFA in Painting from Chamarajendra Academy of Visual Arts, Mysore and MFA in Printmaking from Chitrakala Institute of Advanced Studies, Bangalore. His art practice during the last decade includes Drawing, Painting, Printmaking, Installations, Video, Animation etc. His works speak about the complexities of the multi-layered urban living, issues of identity, migration, changing human relationships in the present context etc. The multicultural, cosmopolitan surroundings have been the major influence for his practice in general with an emphasis on the uncertain, fragile characters of present day urban society. He had four solo shows: 'NOW SHOWING….' Karnataka Chitrakala Parishath, Bangalore (2003); 'MONOLOGUES', Gallery Blue Spade, Bangalore (2010) and 'FACTUAL FICTIONS', Gallery Veda, Chennai (2016); Hastakshar Art Gallery, The Westin, Pune (2017). He has been part of several National and International Exhibitions over the last 15 years; His awards and recognitions include K.K.Hebbar Art Foundation Gold Medal from University of Mysore, Karnataka Lilithakala Academy Award, H.K.Kejriwal Young Artist Award, Camel Art Foundation Award, National Scholarship from Dept. of Culture, New Delhi, Magmart-VII' International Video Art Award, Naples, Italy; 'Inspiration from Isolation', New York Art Competitions.
KK Hebbar Art Foundation Gold Medal in BFA from University of Mysore (1998)
H.K.Kejriwal Young Artist Award, Bangalore(2007)
National Lalit Kala Akademi Scholarship, New Delhi (2000)
'Magmart VII' Video Art Festival Hall of Fame, Naples, Italy (2012)
National Scholarship, Dept. of Culture, Govt. of India, New Delhi (2002)
National Printmaking Camp by LKA, New Delhi at Faculty of Fine Arts, M.S. University, Vadodara (2009)
National Art Festival, Lalitkala Akademi Regional Centre, Kolkata (2018)
'Sethusamudram Residency', Theertha International Artists' Collective, Colombo, Sri Lanka (2010)
7th Guanlan International Print Biennial, China Printmaking Museum, Shenzin, China (2019)
National Art Conclave by Lalitkala Akademi at Chitrakala Parishath, Bangalore (2017)
Buy premium quality & affordable paintings, wall art for home and office interiors at Arte'Venue. Buying paintings online is made easier with our largest and awesome collection of licensed art prints in India. All our art prints are fully customizable. With these elegant art prints we have made the interiors and decor affordable.
©2019 Montage Art Pvt Ltd. All rights reserved.